We believe in the power of sport. Our programme enables various community-based sport activities, but not everyone can always participate. That's why we are taking the next step in Community Projects: while developing their own skills, we encourage our coaches to break barriers in sport participation. Because this is very close to our heart.
Awareness on menstrual health and hygiene
Our Hockey Dreams Coaches in Kampala, Uganda, identified the first obstacle: menstrual health and hygiene. Leading to issues that keep girls away from sport and school. Awareness on the subject may help them face this challenge. What is kicked off with a seemingly small workshop for the coaches, evolves into a project by the coaches with a big reach and impact in their community.
The waterfall effect
This Community Project in Kampala relates to Sexual and Reproductive Health and Rights (SRHR). For expertise on this matter, coaches join forces with Incredible Sports Hub (ISH) as facilitators. To break barriers in sport participation, coaches are creating a waterfall effect in impact. This will take place in four phases:
Kick off with a workshop for all 13 Hockey Dreams Coaches. This gives them tools to grow as supportive coaches and positive role models. The workshop recently took place; menstrual health and hygiene, and related SRHR, were discussed. The myths, the facts, how to cope with it. Nothing was left unspoken between the female and male coaches.
The next step in knowledge sharing is a workshop for 30 friends and families of the coaches: "This will enable us to discuss these topics among friends and in our homes", the coaches explained.
After this, ISH and our coaches will combine their strengths at the hockey pitch: during the next Hockey Dreams camp they will inform an expected 150 youth participations – girls and boys – on menstrual health, hygiene and related SRHR.
To further turn information into empowerment, 80+ girls will get the knowledge and resources to create reusable sanitary pads.
Starting with the first workshop, we take the first step of what will become an impactful project. Girls will be equipped to overcome this obstacle and participate more in sport, surrounded by supportive coaches and players.
Getting the kids involved
Following up on the two workshops for coaches and their peers, youth players will get the opportunity to learn more about menstrual health and hygiene and SRHR. Hockey camps are a safe space to talk about social topics and share gender and age sensitive information. Girls and boys will be divided and engaged in talks adapted to them as target groups.
The coaches have a leading role in this, since they are so familiar with the kids. They create a safe, informal space to learn more about the topic and be comfortable to ask questions. All the girls will receive a handbook to take home. This has information on menstrual health and hygiene, written in both English and Luganda.
Into the community
The fourth phase involves further engagement with the girls in the community. As part of the coaches' goal to sensitize youth about reproductive health, the focus is to empower girls having healthy periods and taking care of themselves in a hygienic way. For the Community Project, our coaches will therefore organise two days of workshops for around 40 girls each day. They will be sewing their own reusable sanitary pads, alternated with playing developmental games. All girls are allowed to invite a friend, sister, mother or aunt to join the project and be introduced to the why and how. At the end of the day, all who are attending will receive the educational handbook.
Why is this important?
Uganda has one of the highest fertility rates in the world, high rates of teenage pregnancies as well as rising HIV/AIDS infection rates amongst adolescents. There is limited knowledge on SRHR and a huge amount of myths and beliefs around these topics in the local communities (International Institute of Social Studies (EUR)). An example of this, given by Hockey Dreams Coaches, is that in some cases people believe that when you have had your first period you are sexually ready. Child pregnancies can be a result of these beliefs. For this reason, our coaches want to broaden the knowledge on SRHR, not only for women and girls, also by engaging men and boys on this topic. A project on menstrual health and hygiene is an important step in this.
Through this Community Project, we contribute to the following Sustainable Development Goals:
SDG 3: Ensure healthy lives and promote well-being for all at all ages
SDG 4: Ensure inclusive and equitable quality education and promote lifelong learning opportunities for all
SDG 5: Achieve gender equality and empower all women and girls
Read more about our mission and contribution to the SDGs.
Insights from the 1st phase: coach workshop
Emmanuel Baguma, one of the Ugandan Hockey Dreams Coaches, let us know that on the 6th of February the workshop with the team of coaches took place. "It was such an amazing day for all us."
"This workshop is so important. We were taught about sanitary hygiene and it mainly emphasized on menstruation. More information about this topic helps us as Hockey Dreams Coaches, because we are coaching a lot of girls who might not be aware of these topics. So in most cases, we are the nearest people to educate these kids and pass on this information."
"The day started with Innocent, our team captain, to give a brief recap on what Hockey Dreams Foundation stands for. He emphasized on our roles in lives of coaches themselves and of the children we coach." Emmanuel also wanted to make a special mention that Innocent – who had an exam that day – took the initiative to come to the workshop location to see if everything was in place before they started. One for the team!
"After Innocent rushed to school, he handed over to the ISH facilitators who started off with a game to open up our brains and get us set for the lessons. It was very enjoyable! It caught all of us smiling and active and this marked the beginning of the workshop as Sandra, the ISH facilitator, introduced their topics of discussion."
Sandra took the opportunity to teach the coaches about sanitary hygiene and menstruation, which was the main area of discussion for the day. "We as coaches were very excited to answer Sandra's questions concerning these topics as we were sharp from the start. But nevertheless, there was still a lot to learn as we had little knowledge about the topics, so the workshop proved to be a great opportunity for us."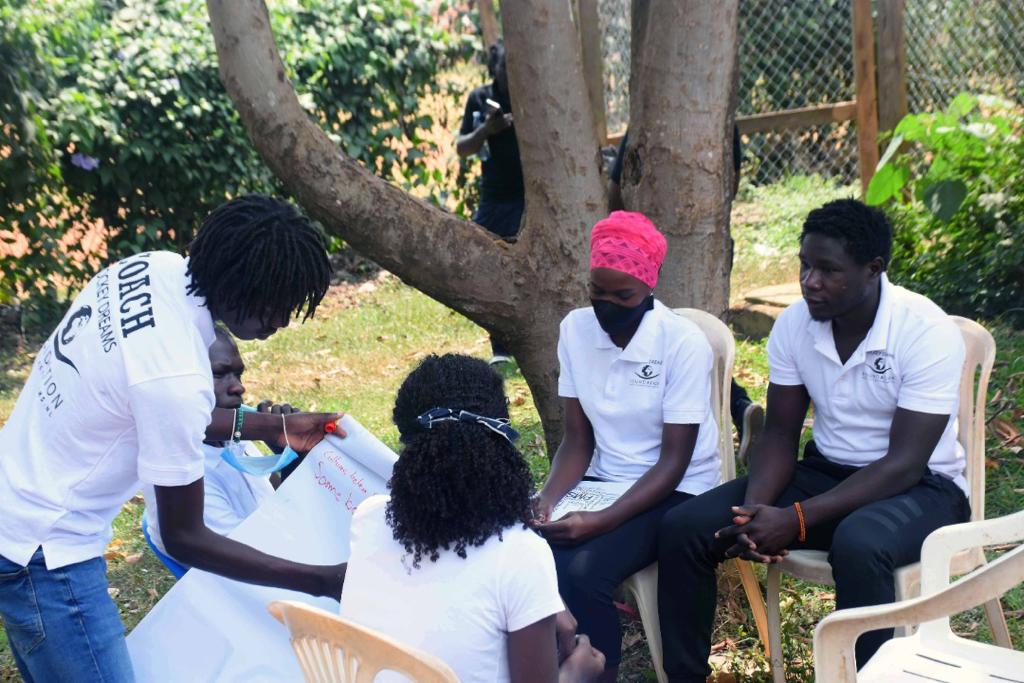 "As Hockey Dreams coaches, we were active throughout the session and eager to learn. When we were almost at the end of the 2 hours workshop, we were requested to form two groups which saw us discussing some topics and we had to present the work to the rest of the team. We saw everyone being bold in the presentations which meant that we as coaches were well equipped and we are ready to pass this on to the community!
"ISH are really good facilitators, their explanations were on point, clear and easy to understand, it was nice playing some brainstorm games before and after the session. As the workshop came to an end, we got a surprise call from one of the ISH facilitators who presented her work through a whatsapp call to us, live from Angola! The facilitators then evaluated the workshop by asking each coach their opinion about the topics and about ISH at large. We all had different opinions which would be of great use to ISH. A game was played amongst the coaches and ISH members, which marked the end of the workshop."
This story could not exist without the help of Coach Emmanuel Baguma.