Coach Lawrence (from Kampala, Uganda) was invited to spent 5 weeks in The Netherlands: seeing different hockey clubs, touring around, meeting old and new friends, and joining SportWays for two of their hockey camps. It was great to see Lawrence enjoying and learning so much during his visit. Read Lawrence's report on his experiences below. Big thanks to SportWays, Wings of Support, Kampong and all coaches, volunteers and friends to making his Dream Trip possible!
It all started at Schiphol Airport. My day started with a warm welcome from a lady. I had spent a year without seeing her but just talking on the phone since we had met once in Uganda when she had paid a visit. As she saw me, she really gave me a warm smile, big hug which made me feel home already by doing that. From there she asked me how my flight was, which was really nice and cool, and from there we moved to pick a train to Utrecht: her hometown. On the train, she explained me parts of how my program would be. As we arrived at Utrecht central train station, we went for coffee and food. During the meal, she taught me about how the Dutch system of life works: transport, how to get food, talking to people and being very open to everyone in case I have any problems or questions. The next step was getting onto the train to her home, drop off my bags, then get on a bus to Kampong hockey club which on spot of seeing the place was really amazing to my side. She told me about the history of the club and that Kampong is the biggest hockey club in the world, with over 9 hockey pitches on it and a number of around 3.000 members. This sounded so crazy in my ears, at first was hard to believe but as I went on moving inside the club I went on to read on how the club works, and realised it really is an amazing club. My first day is really a big story of my life, I did so many things in one day that you could hardly tell it was only the first day. After the train, I had a bike ride around Utrecht which was around 15 km and it was so much fun! We visited many places, we saw animals (peacocks, pigs, cows, sheep). I learned how to ride bikes in Holland: exciting, because I had to ride on the other side of the street and there is an actual lane just for bikers. I also learned how the Dutch tourism sector works: there is information everywhere. In Uganda, there is not that much of knowledge about history and culture of the country, although people would love to know more about it. It's just that the facilities – for example a book – are not there. A big difference!
After the bike ride, it was hockey time at Kampong. Guess what?! I'm here during the FIH Pro League! They didn't tell me before I arrived, so it was a real surprise. I had a ticket to see the men's match between Netherlands and Argentina. Seeing the hockeyclub and the game were eye openers, comparing it to the hockey world from our beginner's level way back home. The game ended 1-1, so they had to play shoot outs. Due to very heavy rain, they had to delay the game. But in the end, it was a lot of fun for me and I was really amazed with how the rain is predicted here. Every time, Dutch people go online to check the weather and decide whether to go outside or not. I have learned so much already on the first day. I got the chance to see the Pro League, watch national team play, see how coaches react, how they work with each other, how umpires take on risks of the game, and got to see the Hockey Dreams Ambassador Kellerman with his great hockey skills!
I would like to give special thanks to the lady who made this day so wonderful and fun. Thank you Merel. For sure, I'm really grateful for what you did for me during my time of stay. I will never forget you. Now sad news came in, as she told me I'm not sleeping at her place and am meeting someone new. I was a little scared at first, but as I'm always a man who likes challenges, I had to face the situation although I was already used to having Merel around. At the end of day 1, I took a train to meet a new face. Would you love to know what happened? Wait for the next day…
At 00:30 as I left the Kampong hockey club late in the night due to the FIH Pro League game for men, I took my train to Amsterdam. Amsterdam is also known as the capital of Holland, where I met another lovely and welcoming lady: Sarah. First the introduction, than we went to Sarah's home, which is really nice. As you know time keeps on ticking and soon it was morning. Wake up, take a shower, lovely Sarah already made breakfast, which was really nice, but also heavy for me to start a new day in this style.
We started our day with a walk around Amsterdam, everywhere you look the water welcomes you. This city is almost on water and keeps amazing me. Sarah took me to many places like the old kings palace, freedom square with comedians and a lot of tourists around. Amsterdam is crowded with people. I was speechless and Sarah kept on asking "Lawrence are you fine"? Due to my own experience and what I saw in Amsterdam, I was shocked about: historical Amsterdam; a bridge built in 1623 and houses of the same year, the water everywhere, big buildings, the way people live, electric cars, bikes (most important way of transportation of the inhabitants of Amsterdam) and boats all over the place, buying everything electronically, trains working on time. So many things that I can not find at home in Uganda. This was really a new way of life for me. Sarah made my day more lovely buying me food, drinks at times I wasn't expecting that, it was really a fun and happy morning.
At around 2pm we met Merel again, and I was really happy to see her again in my second day of stay. For lunch we had a typical dutch meal which I enjoyed. We continued to Kampong hockey club for more FIH Pro League games (ladies), where I volunteered at the entry scanning tickets, which was really nice to learn how to use these electronic machines. Learning some Dutch like thanks (dankjewel), yes (ja), no (nee). Volunteering was awesome! After this, we watched the game and by this time, I had made friends so it became much easier for me to wander around. The match was really fun as the Dutch team won by 2-1. I learnt some great skills from the game; like how to open up the playing field for the play and how to react when a foul is committed.
By the end of the day, I met another person whom I will not forget in my life: Jans. Jans took me to Kampong stores for a jumper but ended up giving me a lot of them. You really made me happy, thank you Jans. Then I was supposed to board a bus, instead Joost gave me a bike ride to Merels house. This was so cool, a ride at night with the sun still on sky. In the evening I also met Loek, an old friend from Uganda. The whole day was one of happiness, all over my face from morning to bedtime. Thanks a lot to all who made my day fantastic: Sarah, Merel, Joost, Loek, Jans.
The next day kicked off from Merel's house, with breakfast that was really heavy but fine to me.The next step was to have a tour again in Utrecht, thereafter hockey. I got onto a train to Utrecht Central Station with Loek, where I met a new friend called Roeland. Roeland is a coach and player at Baarn hockey club, also Baarn is the former hockeyclub of Sarah Hays. Roeland and I started with a coffee to get to know each other, smoothly everything was fine, we continued to a gamestation to play games. This was really looking new to me because it was the first time of my life that I was in such a place. As my slogan is: never to give up, I pretended that I could do this, thus to give it a try and have fun, which smoothy was successful. Roeland challenged me and I tried my best to give resistance, making it fun between the two of us. The end result: we won a lot of tickets and I received a gift.
As we came out of the gamestation having fun on the main streets of Utrecht, Roeland received the new that he became an uncle. He was filled with such happiness, you can tell how he was feeling. Therefore in not much time: he had to go and celebrate with the rest of his family members and I had to continue with my program at Kampong hockey club.
At Kampong I learned how a team is selected, prepared, trained, motivated and how coaches work towards winning the championships. I really learned a lot. Great thanks to the Kampong under 12 girls (MD1) for the warm welcome they gave me and to coach Alex. Until now the days always ended in style, meeting new faces: it was time to take my train to meet a great gentleman, family Tjarko Tadema in Naarden Bussum.
Alway same routine breakfast, story about me to the family members and also getting to know them too. After breakfast I had fun with the children at home: playing hockey, taking photos with them, it was really fun and made my morning so cool. Later that morning it was time for my next learning step. Guess what? It was hockey at Baarn hockey club. Tjarko and his youngest daughter walked me to the train station.
At Baarn hockey club I was warmly welcomed by club members, players and coaches. We had coffee in the boardroom, where I was told the history of the club. Baarn is a small club but the best around, with only three hockey fields that really looked nice. Roeland, team manager, coach taught me how to organise a team before a match. I learnt a lot from them like: how to plan, who to play, who should start from outside, at what time to make substitutions, in which situation to change game strategy if opponents are over taking you, how to combine brains with players and coaches.
Then after the game, I headed for Amsterdam by train, again meeting a new friend called Malou. Malou, I met frequent on Facebook, now I was very glad to finally meet her face to face. We met with warm smiles on our faces. At Amsterdam bicycle station we got me a bike which was new to me, because in Holland you can rent a bike from the railway company. We started our way to Sarah's home with a bike ride in the city, explaining to me the history of various places, buildings. At Sarah's house I spent the next two nights. That evening Malou and Sarah made a really warm welcoming dinner to me. Malou and Sarah had planned a pizza dinner for me with chicken, my favorite. Malou's best Dutch ingredients and Sarah making it really jummy, all three of us enjoyed the evening, telling me stories of their Africa experience and me too telling them my trip so far.
Later that evening we went to Gijs house, Gijs gave me a warm welcome, cup of coffee plus dutch bread made by his spouse. I enjoyed being there, getting to know his family. I can only say thanks to Malou, Sarah, Gijs and his family. On top of everything it was the first time in my life to put on real hockey shoes, because the following morning I had a training called "train the trainer" at Sportways in Amstelveen.
It really started as a great morning with good weather. I went onto my bike with Sarah through some parts of Amsterdam. She showed me the olympic stadium, a forest park, the HDF office and after that we went to Hurley hockey club. This is where SportWays team members had gathered for the briefing on how the camps will be run and also a "train the trainer" class by Thomas.
First all team members were briefed, divided into groups, went for a social game, then we split up to different sections of the training. We only did individual games in the morning section like one on one drill ball, creating space, how defernders should position on field, using the baseline then cut inside has the best option, 3D skills. After all of that lunch.
After lunch we went on with the program but this time it was more team training and game situations, where a lot of skills were shown to us, how to attack and defend, putting pressure on opponents, how rebounds are taken, coordination between keepers and defence. After that we went on for the speech from the Dutch national ladies indoor hockey teamcoach, basically speaking about how a coach should behave, think, react, decide, unite with players and many more topics. After the speech, it was shower time, and social time getting to know each other. I teamed up with many members having drinks, eats, dance, then birthday shower to Basten, then time to get onto our bikes back home.
I woke up late in the day, had breakfast, lunch, sat down and talked with Sarah.Then I had to say goodbye to her because as of now I started living with JanWillem at the boat house. I took a bus to the HDF office, met Jan Willem and Merel. From there we went to the boathouse. At the house Babu. a very nice dog welcomed me. Then I met all family members, JanWillem showed me the house, how things worked, my bedroom, gave me keys for the house and a bike.We went for a bike ride around the village, till SportWays offices, to all hockey clubs in Amsterdam: Hurley, Pinoké and then the olympic stadium. Coming back we had dinner and after that it was boat ride time, which in all day activities was the best: me becoming a captain. Thank you Jan Willem because that really made me feel home.
I woke up very late the next day, had breakfast and lunch, biked around the place on my own, went to hockey dreams office, met the full team of HDF where they had organised a welcoming drink. Met some new faces as this was really a happy moment in life for me, then after my welcoming party we went on a boat drive through the canals of Amsterdam. We visited the zoo, the 10 bridges with lights, the oldest hotel in Amsterdam, boat houses, streets, houses painted black meaning they were affected with pleg, and many things for me to set my eyes on. At the end of the day we all went home, the following morning a duty task at SportWays offices awaited me.
Always the day starts in the morning with breakfast, thereafter I got on my bike on my way to Sportways. I met Malou for my task, she gave it to me and as was doing it, Thomas Tichelman came in with a question for me. How to make a drill of turning from right to left and then back to right with 3D in it passing three defenders, this sounds crazy but it's for real. I learnt from him a coach should always think of his work, how to improve it, getting new skills, because Thomas really moves hockey, talks hockey and always makes new drills, this really ended my day in thinking.
A big part of the trip and my memories were the SportWays hockey camps. Great thanks to the teams I worked with in week 1 and 3. HP, Jens, Lawrence, Julian, Siskens, and others. really you made part of my dream come true through teaching me new skills, drills for kids, allowing me in demos, pricing as Staff of the Days, I couldn't believe it. Always guiding me from wrong and taking care of me, making me feel at home and giving me more tools for kids to always have fun. Giving me time and space to explain my life to the kids was really nice, this was a great experience of my life. All clinics and drills I have learnt from the camps, I am going to share with kids, clubs, coaches, national teams to improve on our standards of hockey in Uganda, and also will keep practicing to improve my skills and knowledge about the hockey game. It was really a nice stay and experience to meet new people at camps and learning from them, great thanks to SportWays for giving me this chance to be part of your world, and hope next time to join the team again. Everything during this camp was a "first in my life" experience: organisation, kids, coaching skills. This was really fun to me, all the kids, the other coaches we were with at the camp, make kids happy and also learn what was supposed to be shared, created many friends, both kids and coaches, gained new skills in camp organisation, planning, field skills, drills and alot more. It was really a great week to me.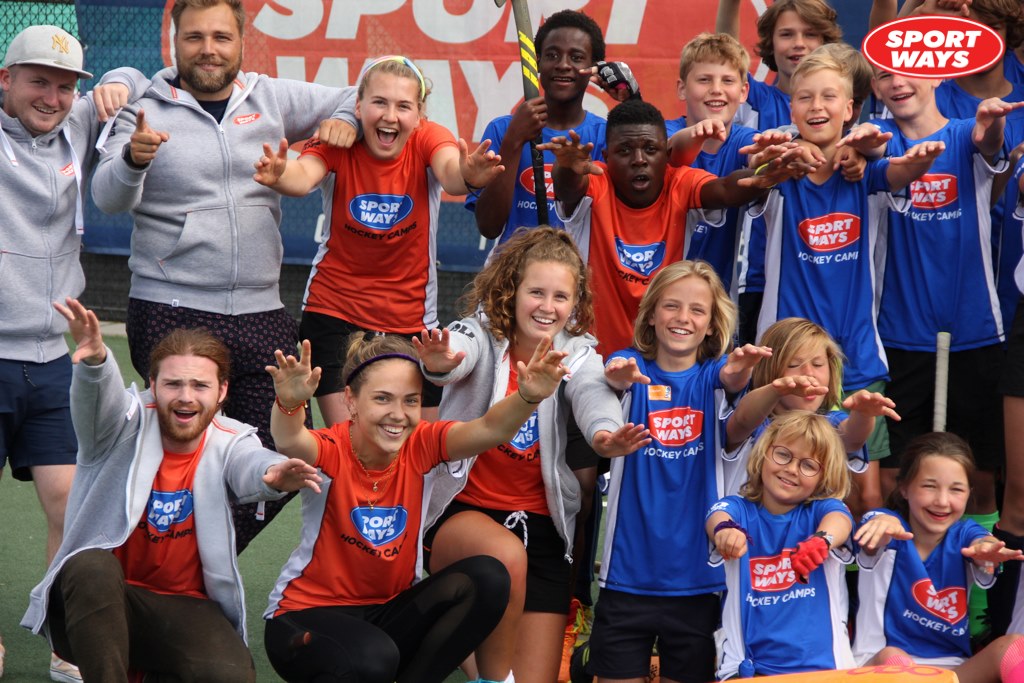 Sunday morning after breakfast I went for a bike ride with Jan Willem and friends, a 53 km race. This was so nice and cool because I enjoyed two in one, because I enjoyed the race and also touring the beautiful holland on bike. In the afternoon we went on to meet Bjorn and Amaya and we really had a good evening because seeing them again was so nice. Last year Hockey Dreams' ambassador Bjorn Kellerman and his girlfriend visited my city, and now I met them again! We watched football finals of Holland vs. USA, had dinner at the best pasta cooking restaurant in Utrecht, then Amaya took us to her brothers shop and we played games, later that evening I went back to Amsterdam. And Bjorn gave me a souvenir for life: his national team t-shirt branded with his name and number.
Great thanks to this great lady Sassie, the spouse of Jan Willem for always motivating me, cooking what was really good for my body, always reminding me not to forget my programs, giving me ideas, she really made my stay more wonderful.
The day kicked off with me and Jan Willem getting onto our bikes to visit the art park in Amsterdam zuid, which I once passed by, now was the time to be there. Jan Willem is fun to ride with, he is a great rider. At mid day Gijs picked me up at home to go to one of the big cities of holland The Hague, at the north sea connecting to England. We visited the hockey hosted stadium of the world cup 2014 and went to the meeting point. We were welcomed with smiles, with our names on the welcoming screen, given coffee and a glass of water while we were waiting for the board members to come. When everyone was in, Gijs started the meeting on the HDF; what hockey dreams means for people in Africa, showing future plans, what HDF has succeeded in, videos of some coaches, then my video, after that it was my turn to talk, explain about my life with hockey, how we do it in Uganda, how Hockey Dreams has helped me and few questions from the members asking to know more about how we experience life in Africa. At the end we shook hands, then a group photo with all.
We continued with our day by going to the beach at the north sea coast. The Hague is a very nice place to be, cool environment, buildings, hotels, avery nice place to stay. We had fish with chips and we visited hockey clubs. On our way back, Gijs taught me a lot of things, how to apply what I have learned back home, how to make a speech, how to appreciate the nice people around you, how the system of life works here in holland, how to use money, how to help other coaches home and and always making fun to kids and always to use my time, not african time.
My second camp at Amsterdam Hockey & Bandy club. The day started with me traveling from Utrecht to Amsterdam to get ready, because I had spent a night with Bjorn and Amaya. I packed my things to use very quick,and after taking breakfast and then we went. JanWillem dropped me off at the camp station. We got there safe, he dropped me off after making sure everything was fine and I was good. I was set for a full week of hockey, creating new friends, learning new skills and coaching ideas exchange, and a lot of things I didn't know in life. My week started that Saturday, being part of the social group, introducing myself, making a video of how younger kids behave when they go to buy eats at cafés and coffee shops, this all went well and this gave me confidence to feel like the week is in my hands. At the end of the week, I was the man of the camp, which really made me happy.
The following days at the camp, I received the camp rules, introduced myself to everyone, organised the camp site with others to make sure everything was in order before the kids come in. Kick off hockey is the main issue why all we had come together. Here I met new people, an amazing TD, supervisor, trainers, runners, kids, Dutch international hockey players, the hockey goalie keeper legend Drijver himself and many new faces with amazing hockey skills. When it comes to hockey, this camp was given many chances of doing demos of hockey to kids, through playing, warming up, showing new skills to kids, which resulted in being the kids favourite coach. I learnt a lot of coaching skills, how to organise camps and how to make it productive to everyone attending it. Some of the coaching staff became close friends due to how I was conducting myself, very free, having fun with everyone, teamwork was really important. This made me awarded staff of the day twice and becoming the overall staff of the week from kids and staff members at the end of the week. This camp made my trip to Holland a lifetime memorable trip.
Sebastian picked me up, I met him once when he visited Uganda with Jan Willem. We went to his friends house, where I learned a new game using dice. You only have to guess what total numbers everyone has, this was new to me and fun. From there we proceeded to his house and he made me a really nice dinner, which I enjoyed, then to bed because I was completely tired after a camp week.
The following day, after breakfast we started a bike ride in Amsterdam to some of the parts I had not seen yet in this amazing city of the Netherlands. We visited many places like: a lookout, the most amazing tower I have ever been on, dam square with a lot of fun happening around the place, red light streets, crossed the river IJ with the ferry to show me more of transport means in Holland. Later that day I met his girlfriend for dinner, which was so nice and we went for ice cream to conclude my day in style. This was really crazy day and fun in life, thank you a lot Sebastian for that weekend.
Monday morning I met Merel at the airport on her way back from Malawi trip to visit her parents home in The Hague, which is the best city of Holland, very smart and calm. we toured the city to visit China town, eat Indonesian food , very nice and healthy. We went to the kings homes and workplaces, parks and government buildings really nice setting of the city, and then visited Rotterdam city which has the second sea port in the world , though it used to be the leading port in the world. From there we went on to visit the hockey club of Rotterdam to watch FIH Pro League games, here I met a friend from one of the clubs who volunteers for HDF. My last day was crazy and thanks to Merel my trip became amazing. I needed to get ready to return to the pearl of Africa: UGANDA.
As I reached Sassie's house, it was dinner time, here I met one of the friends: mr Bulb and wife. The following morning I said goodbye to everyone at Sassie's house, I was feeling so bad I to leave but I had nothing to do but just be like a man and say bye to everyone. Jan Willem dropped me off, as I was at the airport I got a surprise from someone I wasn't expecting to be around, guess who: Malou. She came with a big smile on her face and gave me a gift. Her coming over made me feel safe to go and everything was fine. A great thanks to all hockey dreams ladies for making my trip nice and also fto all for supporting me: sportways, wings of support, Bjorn and Amaya, Kampong hockeyclub and to whoever supported my stay in the Netherlands , really thank you thank you.
I LOVE YOU ALL AND HOPE TO SEE YOU ONCE AGAIN IN THE FUTURE. LAWRENCE KAKANDE FROM UGANDA.